When to Use Content Management Software
by Conner Fernow, on Apr 09, 2019

Our Tips On When to Use Content Management Software
Hosting a conference, but not sure if you need a presentation management solution? Clarity Experiences hosts events like yours every day, and we have put together some tips to help you decide. Read on!

Consider Your Event's Size
How big does my conference need to be to need a presentation management software?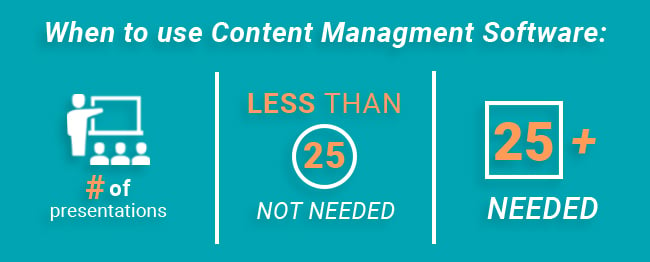 If your event has more than 25 presentations, then you most likely need some form of a presentation management solution. So what is a presentation management solution? A presentation management solution is a process or system often combined with software that enables you to communicate with your presenters, collect their presentations, and distribute those presentations to the rooms where each presenter will be presenting. The amount of presentations your conference has directly affects the level of software and organization you will need.
You Need Your Speakers' Presentations In Advance
Do I need presentation management software to collect presentations in advance?
Collecting your speakers' presentations ahead of time can feel like a full time job. A good presentation management solution will allow your presenters to submit their presentations ahead of time and will keep them organized and updated. Your presenters can show up to the speaker lounge and see their presentation the same way it will look in the room This process is great for your presenters as it will give them a place to go through their content and know that everything is ready to go. When your presenters are comfortable and confident they will be able to deliver a much better presentation to your attendees.
Your Event Has Multiple Rooms
How many session rooms can my event have before I need a presentation management solution?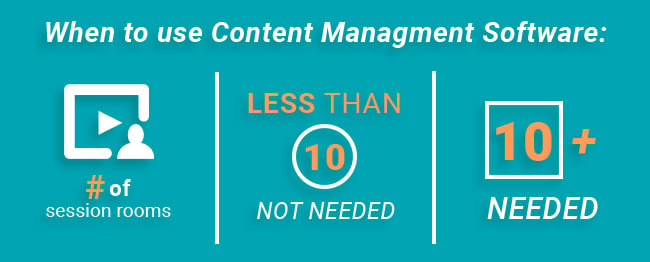 Juggling presentations between multiple rooms can be challenging. When your event has more than 10 session rooms with multiple presenters in each room it is really beneficial to use a presentation management solution so all of the content and presentations can be ready to go in the right room at the right time. Successful events need presentations that launch in the right rooms with consistent presentation and organization both in front of your audience and behind the scenes.
Your Presentations Need to Transition Quickly
My event has a lot of presentations in a short amount of time, what's the solution?
Presentations at conferences can be hectic for you, the speakers, and the audience. If your speakers are back to back with little to no time in between, then a presentation management solution is crucial for ensure the presentations are in the right place at the right time without delays or technical difficulties. A presentation management software removes that stress by keeping all the files in one place with easy, fast access wherever they are needed.
Dedicated presentation management software: is it worth it?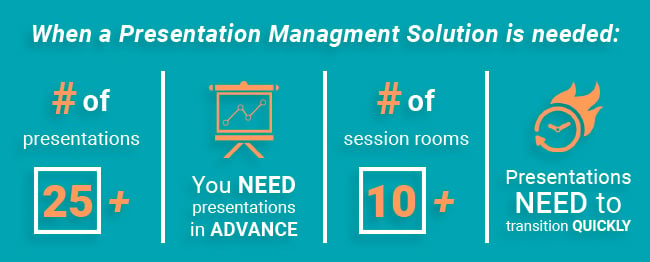 If your event falls under one or more of those categories, then they are life-savers! When you use a presentation management solution software, you can open communication with your speakers long before showtime. You also establish one central location for your speakers to keep their presentations. Finally, you can schedule the different presentations to their right rooms and times all in one place.
Presentation Management: If you need it, Clarity has it!
Clarity knows what event planners need to launch incredible events, and an event presentation management system is a great start! Talk to Clarity today about how to design and launch a remarkable conference!